I'm not much of an internet surfer, well, I'm a lazy internet surfer. I get on to do what I want to do, get sucked into Facebook, go BACK to what I got on to do, then jump off before J's realized how long my tush has been in that computer chair. So I love when I can come across something inspiring without all the leg work.
I got onto this blog,
Ucreate
, to find a good pattern for an apron. And I come across this (the shirt idea, not the girls :) although, that would have been pretty cool. or creepy...) :
A pattern for little
owl appliqued t-shirts
?!? Yes, please.
The designer's name is Ashley and she has a business/finance background, Abbey has the same little dress her girl is wearing on her sidebar picture, and that's about where our similarities end. This chick is wicked creative, I love it. She's like Ashley Pace 2.0
I had never appliqued but heard it was easy. I did learn a few things, if you've never done it. If you have, you probably have a better method or think this is common sense. But I bought this stuff called Heat'n'Bond (an iron-on adhesive) because I didn't want the edges to fray. I wish I had ironed it to the fabric
before
cutting out the owl pieces. Would have made the project easier and life simpler, I'm sure. Then I just top stitched all the layers. And since I was in the mode, I made up an extra one for this adorable fairy princess: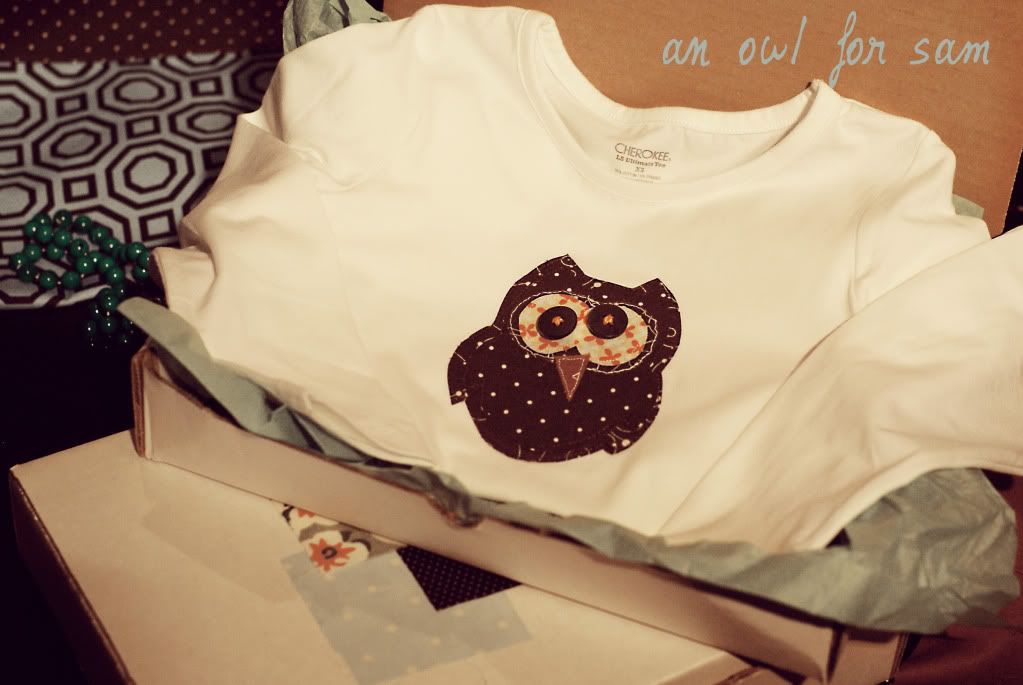 Sam has a birthday coming up and wanted to give back to the 'Make-a-Wish Foundation' that made one of her wishes come true. Instead of gifts, she asked that people bring a gift to donate to the foundation. This little girl had me after the first time I met her and told her I loved her hairbows; she snuggled right up to me on the couch and hung out while we chatted. I thought it was such a generous thing for any little girl to donate her birthday gifts, but still wanted her to have a little something for herself.
They had this great face painter at the party and I was a little surprised Abbey was so into it. I hated face paint as a kid. I loved her look of enchantment when she looked at herself in the mirror. It was magic. Poor little Sam got so sick the night before the party and was inside most the time. When her mom brought her out in that sweet costume, looking so beautiful, to blow out candles, I think all the moms there were fighting back tears. I was.
i love sweet, little girls