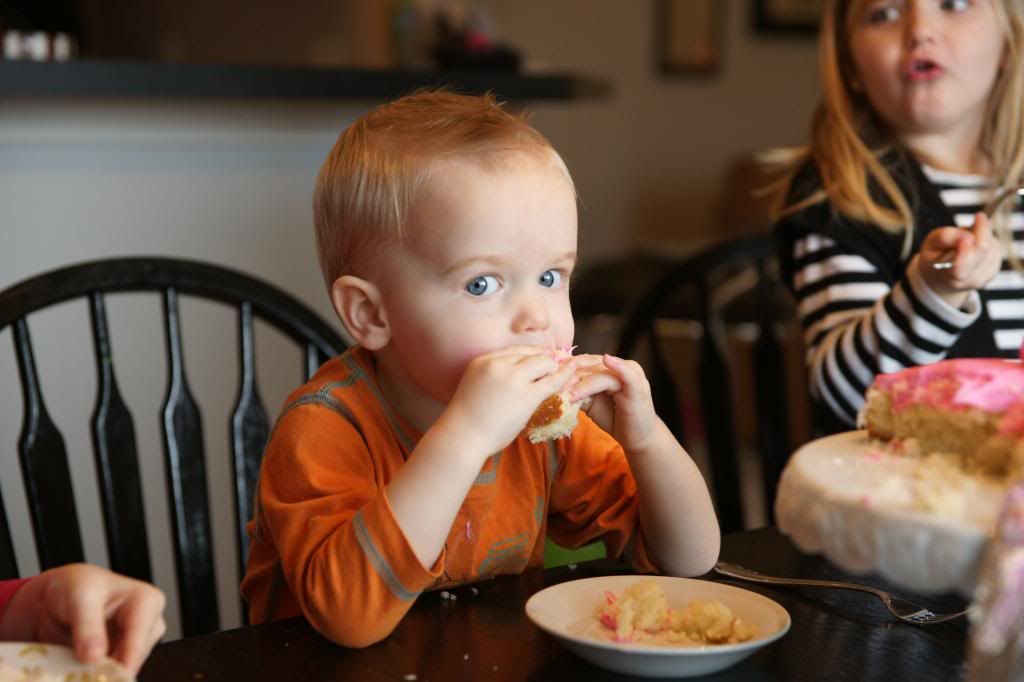 We have a two-year old in the house! You could have made the connection if you happened past our house the next day and overheard the massive meltdown when we tried to take off his pajamas.
Some things I don't want to forget about who he is right now:
-the way he looks in his little old man sweaters with the elbow patches
-rolling his arms before saying any prayer and vaguely humming the song 'roll your hands, roll your hands, as quick, just as quick, just as quick can be. then fold your arms like me, like me, then fold your arms like me'
-he has to have the humidifiers from his room and the girls' room filled and drags the heavy reservoirs into the bathroom every night
-when I say, "Where's your mouth? Where are your fingers? Where is your nose?" without fail, he will stick his finger up his nose, look at me out of the corner of his eye, and smile
-he has to stop at each door leading into the basketball courts every time we go to the gym; the staff has started to notice and comment on the obsession
-he hates when I sing his goodnight song
-he loses it the first 30 seconds I leave him anywhere, then is totally fine. Still breaks my heart even though I know the drill.
-he runs to the hand sanitizer dispenser when I pick him up from the kid center and immediately puts it in his hair like gel. And, now that I think about it, he likes to use the hair gel as hand soap...
-I purposefully place him and Hayden facing the window for lunchtime then sit across from them so I can get my daily fill of their beautiful, pale blue eyes.
-he (unfortunately) has a major thing for anything with a screen and can navigate the ipad with the best of them. He loves to get on skype and call Grandma and Grandpa in the middle of their night!
-how excited I get when I go to pick him up from any place and the way his face lights up when we make eye contact. And the little one-leg-hop dance he starts doing :)
-we have a routine we've fallen into for every naptime. He insists on sleeping on the floor next to his big boy bed, so I started laying down next to him for a few minutes. He would always get up and push the door closed, I think in an attempt to keep me in there or at least give him some more time to catch up when I get up to leave. I get a kick out of it and purposefully leave it ajar when we go in. Then he comes back and plops down, turns his head over, realizes he's too far away from me, and wiggle-worms his way closer to me. I. Love. It.
Bennett is a low maintenance kid and I feel I have so much more energy to enjoy him. Our weekdays require a lot of driving and he is so good to just roll with it. He is such a sweet compliment to our family and I love what he brings to our home. The girls are still enamored with him, although Hayden is starting to catch on to the things we let him get away with... If you know my girls, you know they LOVE to bake, so got up first thing in the morning with a plan for his cake. I'm pretty sure this will be the last year we can get away with giving him pink frosting, but they were very specific about their plans. I love to do a big party when I have the time, but I just didn't have it in me this year. It was a sweet day to have Abbey and Hayden plan it for him and play the day away with Bennett Boy.