Do you use google reader to read blogs? There's a box on the right side that randomly shows 'recommended' blogs. I'd never paid attention before until sometime this summer I noticed my
cousins' collaborative cooking blog
featured. I was intrigued and wondered how a blog gets 'featured', so clicked on the
next one
in the list. How adorable is she? The latest post happened to be on estate sales and I fell in love with the milk glass she found.
And I JUST realized that I ended up finding the exact same one, ha ha!
Anyway, J has always loved garage sales and would usually just take Abbey because I wasn't that interested. Well, after seeing Leslie's post, I got interested! Plus I knew it would be something great to do together. The man seriously loves to find a deal. Let me show you a little sample of some of the pretties I found this summer:
It occurred to me that I could find framed prints, preferably in odd sizes, and have my own pictures printed to go in the frame. (found this one for $3) A few times I've been nervous as I'm taking out (and likely throwing away) prints that have certificates of authenticity on the back. I really hope I don't find out they were precious works of art some day. Although, I really doubt it. Who's Andy Warhol?

:)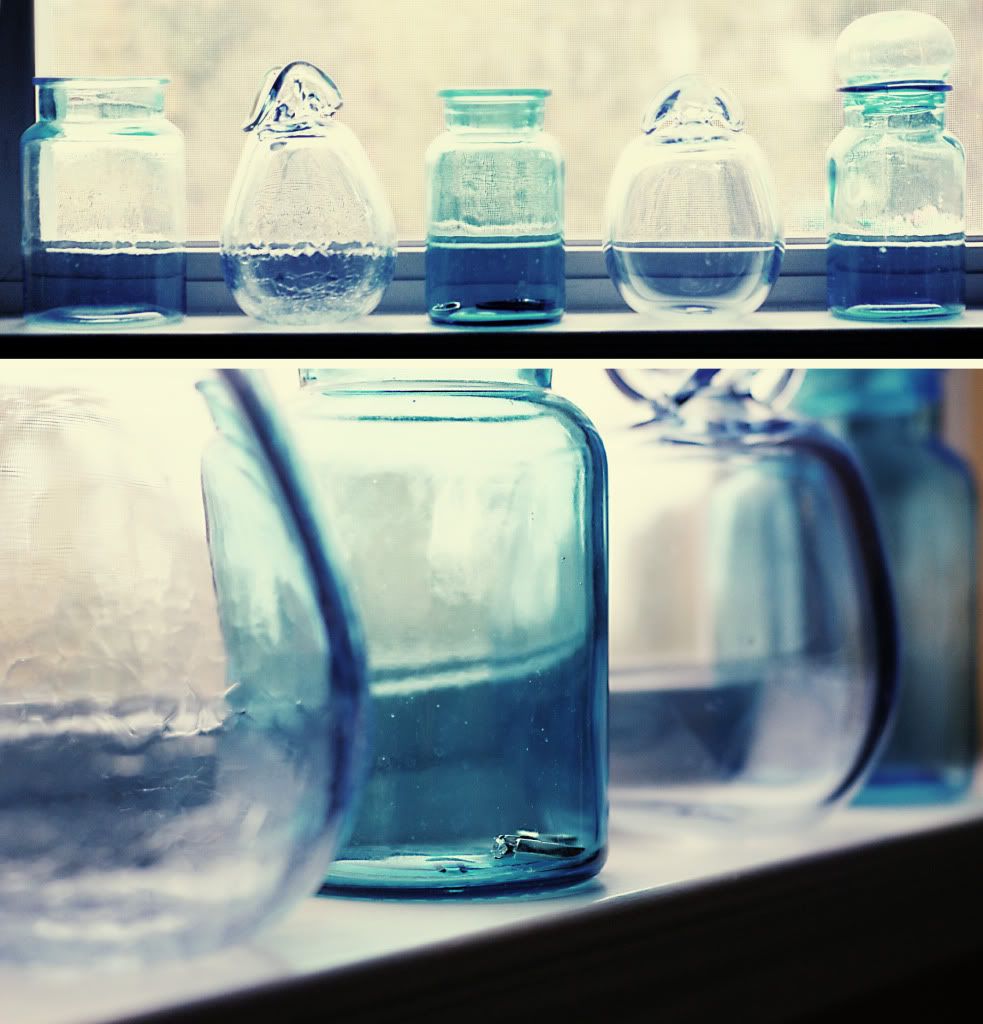 One day, my friend Melody, (who I unreservedly trust with any design decision) mentioned I should find some sea glass for my bathroom. It's so funny how once you get an idea in your head, all of a sudden, you realize a lot of garage sales have them! I found the three matching ones from a woman whose mother got them as a wedding present. I felt bad she didn't find that sentimental, but I did! Even if it's someone else's mother :) And it's the perfect place to keep my wedding ring--I was always misplacing it when I didn't have a designated spot. Then the second and fourth one I bought from a woman who blows glass herself and sells them at art festivals. She was just getting rid of inventory and I was happy to take it off her hands (along with some bright green pieces that look great in my bathroom!)

Remember
the chairs
? Remember how I had grand plans of fun color schemes? The man at Sherwin Williams squashed the dream. I already had a gallon of paint and thought I could split it into quarts and have them tinted different colors. The guy was quite abrasive and condescending and I can't describe the confrontation very well, but I felt really stupid and really pressured to make a decision and ended up tinting the entire gallon 'spa' blue. I used a little over a quart for the piano... So... Two little chairs are blue now. One black. Two red. They look cute together. And SO cute with my preschoolers sitting in a row (who DO fight for the red ones, Melissa! You nailed it.)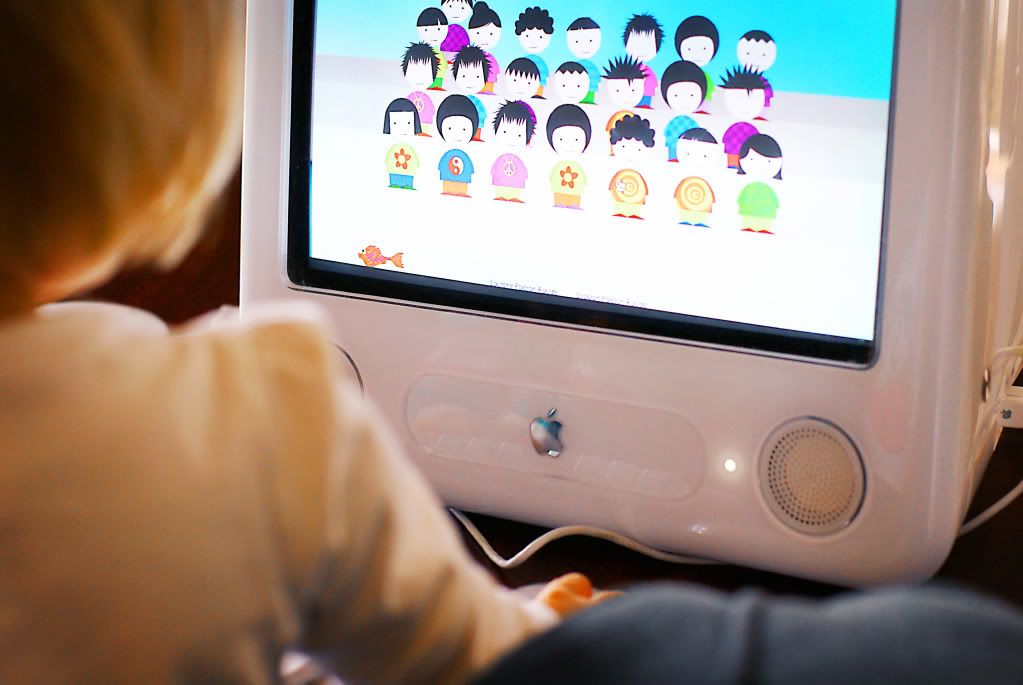 the day j found the chairs (I think all 5 for $5) was the day he found:
abbey's first
mac
($10!)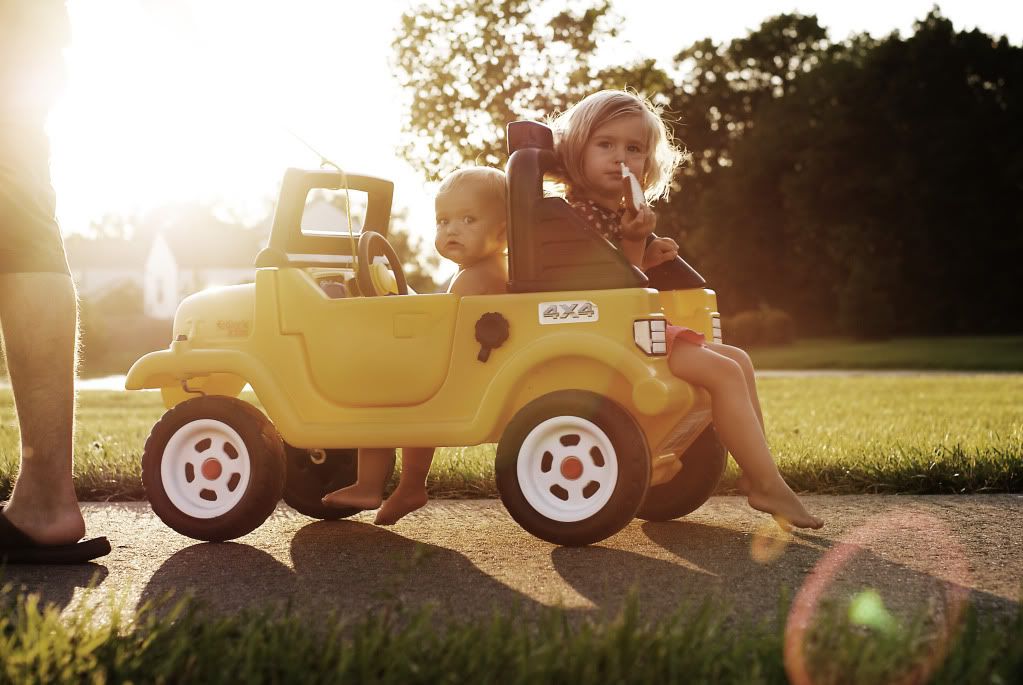 J mostly keeps an eye out for toys for the kids. Then his favorite thing to do is to come home and look up the retail prices online.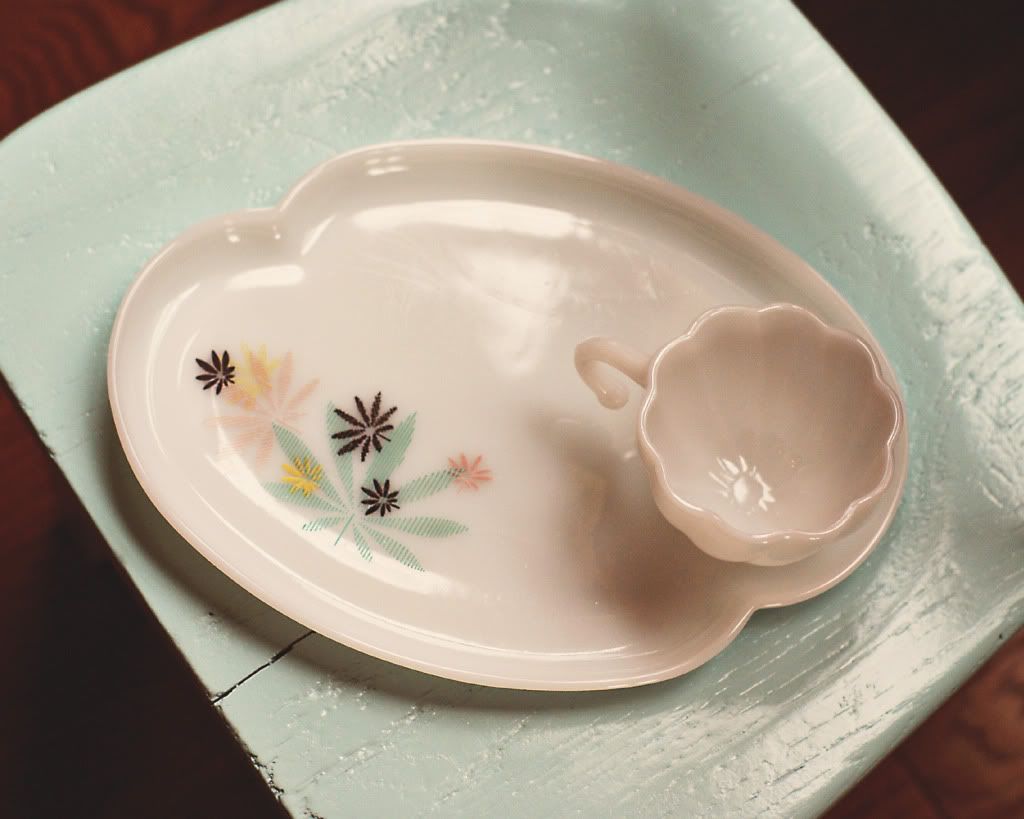 I've also been keeping my eye out for fun dishes to use at parties. Found a set of these cute plates and saucers for a few dollars.

I also have plans to do an Alice in Wonderland tea party for the girls' birthdays this spring. So I've been spotting fun tea sets for that. I hope their little boy friends (boy friends, not boyfriends) don't mind the seriously girly theme.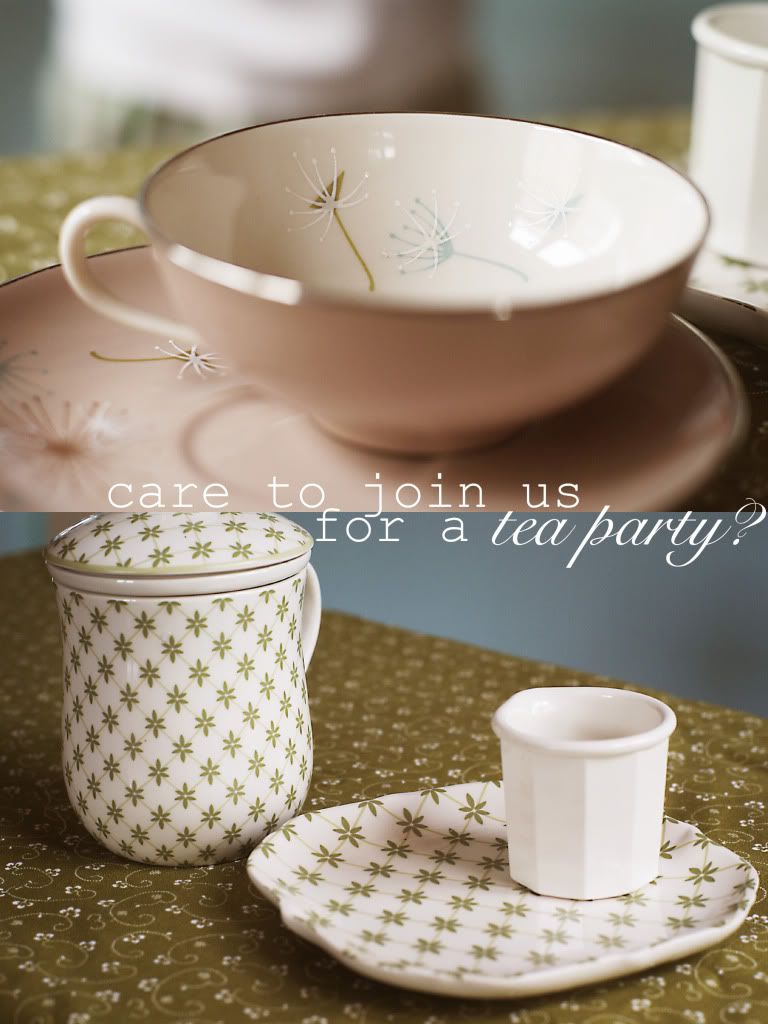 And then I love just finding random little things like this for a quarter. Don't you think that would be cute, filled with fresh-baked chocolate chip cookies as a thank you gift?

That's just the start. I'll do a whole other post on the stuff J found for the girls' room.

Does this all make me seem cheap? Tacky? I used to hate garage sales, I felt yucky. Recently a friend told me how her husband doesn't like to buy things on sale because it makes him feel cheap. I'm so opposite now. It is a thrill for me to find a great deal on something I adore. So maybe I shouldn't be announcing my cheapness or excitingly telling someone how cheap I found my girls' clothes. It's a compulsion.