Abbey is a kid with big plans and the initiative to make it happen. I can't let her 'pretend' to plan parties. At least not without being prepared. Because she will make invitations, deliver them, and people will show up. Wednesday night she asked me if I could go to bed early and she would get Hayden and Bennett to bed. I hung out in my room for a while and she came in with the biggest smile on her face. She had put together a whole night of activities for me. She had a platter full of ideas--treasure hunts, dancing games, clues to find my presents. She talked J into running her to Target on the way home from the bus stop to grab me some Valentine's presents. Some were spot on:
(I still think her cross-eyed face is hilarious every time.)
Others were suspiciously self serving:
"Hey mom, you know, WE could put together the super sparkly bracelets with accompanying fish and butterfly stickers. What's that? Not your style? Well...I guess we could keep them..."
In the meantime, the little dude kept himself busy bumping into stuff:
Her cards were THE best: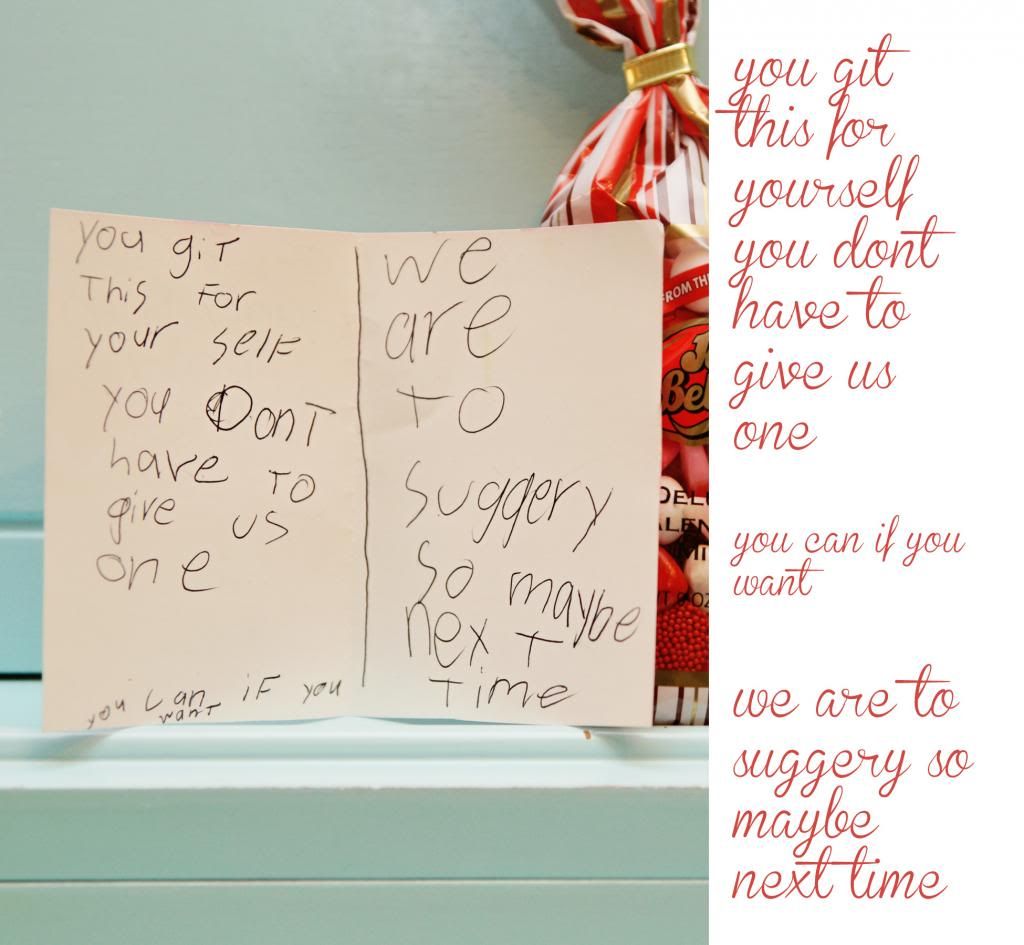 The girls woke up the next morning and were dressed head to toe in red and pink before I got out of bed. I decorated the table the night before with a few little things I found on clearance last year, made some muffins, and stuck a bird on it. They were ridiculously excited to see it in the morning. I love that it is so easy to please them. Although, to be fair, at first glance they thought they were getting cupcakes for breakfast...
I wanted to do a nice dinner but didn't expect Justin home so bagged the idea. Just as I was headed out with all three kids, pumping myself up to handle them at diving practice, he pulled in the driveway. He whisked all of them away to conquer diving practice so I could make the dinner I wanted. It is such a pleasure to cook uninterrupted. I was down one ingredient and our friend, Jim, happened to be at the store and saved the day. I got a kick out of answering the door to him saying, "Happy Valentine's Day!" and handing me my green onions like a flower delivery man.
My hero and kiddos walked in the door just as everything was coming together and we had a beautiful, lovely meal together. Just kidding. The kids were ridiculous. But I was so happy to share the evening with my family and my wonderful hubby who knows that I honestly don't need or want flowers or chocolates today (for some reason I found Valentine gifts and advertisements particularly obnoxious this year). Just a good Dad and husband who happily and seemingly effortlessly helps make this family run. He and Abbey were totally talking my love language this year.